EyeBlack.com is the innovator behind patented branded logos and messages on athletic under eye strips. Our mission is to create products that are an inherent part of the athlete's competitiveness and help performance. We worked with the NFL and MLB to develop unique, high-quality performance strips that are designed to reduce glare and last during competition. Our products are easy to apply and remove and don't sweat off during play.
EyeBlack.com's innovation isn't just for athletes, but translates to the fan experience. With the same high-quality products, we enhance sports culture through customized team spirit products. Fans can support their team and athletes from the stand using the same product used on the field with logos or their own custom design. Eyeblack and face paint have become a staple for athletes and fans alike.

EYEBLACK HIGHLIGHTS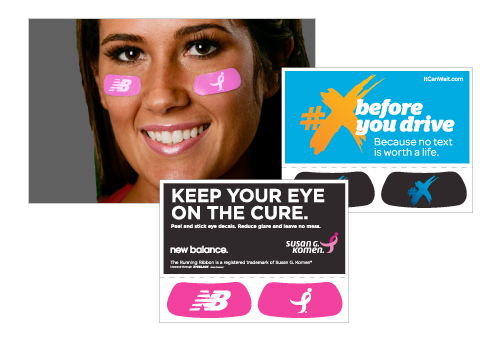 Awareness
Two keys to success when raising awareness are visibility and fun. EyeBlack is the perfect product to meet both of these needs, while being able to meet anyone's budget. People love wearing EyeBlack and we offer the best location possible for branding visibility, your customer's face.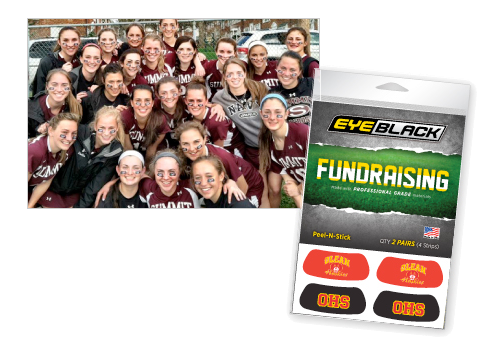 Fundraising
Fundraising with EyeBlack is fun, quick, easy, healthy and extremely profitable. We can customize everything from the actual product to the insert card based on your needs.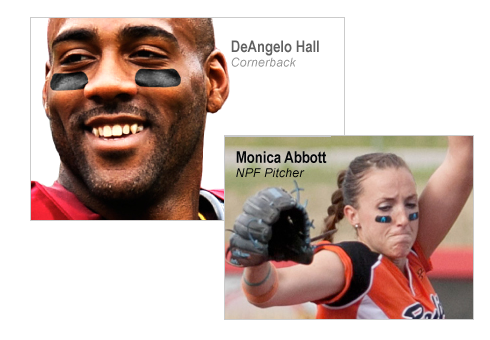 What The Pros Wear
We developed a superior athletic product that is field tested and works until you need to remove it. Our Athletic EyeBlack material is used in production of all of our products so you can be assured that you are wearing what the pros wear!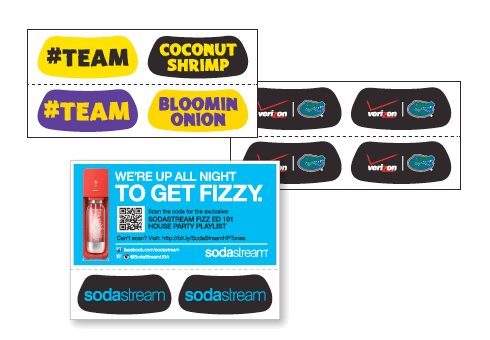 Corporate Branding
High visibility, high quality, and designed to meet budgets from large to small scale events. Our customers love our creative use of colors, shapes, and concepts along with our proven customer service. We will consult with you to get your customer an excellent high impact product that brands them in the best possible light.
Your One-stop shop for EyeBlack Since 2005!

We created and patented the process of applying logos and phrases to EyeBlack. We have thousands of the best eye black designs already printed and ready to be shipped to you today. If we don't have the eye black designs you are looking for, let us CUSTOMIZE IT FOR YOU! Send your art
or idea to VS@EyeBlack.com and we will send you a FREE virtual sample.
We pride ourselves in our customer service.
No matter which product or method of purchase you choose, our goal is always the same - TO MAKE YOU HAPPY!