PAUL RABIL LAX BLACK RETAIL
Minimum - 1 Case (24 tubes per case)
For questions or ordering info, please contact Alex Bertrand at 301-816-1980 ext 212 or Bertrand@EyeBlack.com.
Reduces Glare
Won't melt in your bag
Won't run off your face
Dense and rich formula
"Eye black is as much a part of my pre-game preparation as my stick work routines, locker room playlists, and game day socks," said Rabil. "Having LAXBLACK at all times ensures that I'm prepped to showcase my emotions, as well as suit my functional needs tracking the ball under the bright sun, or stadium lights." - Paul Rabil, Pro Lacrosse MVP
Lacrosse players have a lot of personality and the sport as a whole has embraced using eye black as a tool show both their individuality and their passion for the game. Paul Rabil, arguably the biggest name in the sport, partakes in this ritual all the time by using eye black in lacrosse.
We've teamed up with Paul Rabil to develop a specific lacrosse face paint composed of a thick formula that will stay on your face. Lacrosse eye black designs made with this product will last as long as you do and won't bleed off your face. We are proud to introduce LAXBLACK.
EyeBlack is all we do and we specialize in products designed for use by active Athletes. They are extensively field tested and made only with non-toxic materials that apply smoothly and clean up with ease. Made in the USA, it is easy to see why LaxBlack is the NEW choice in the Lacrosse market. Our tube applicator provides you with the freedom to apply as little or as much product as desired to create a variety of eye black designs for lacrosse. With no limitations you can take your look to the next level with Paul Rabil's gear. Simply twist the stick, apply LaxBlack and PAINT YOUR PASSION.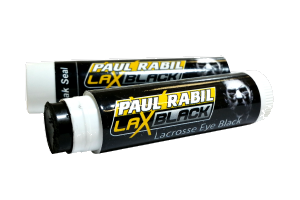 Gravity POP Display - 24 tubes per display