EYEBLACK RETAIL
EyeBlack isn't just for football anymore. Lacrosse, softball, baseball, hockey, and even running events have featured athletes using strips & grease to block the glare from the sun to perform at their best. That's where we come in.
People want an easy way to get the best products. We've spent years honing the perfect grease formula that doesn't run or melt in bags. Our 3M medical-grade strips actually stick a little more when you sweat, and stays on all day without falling off. It's time to bring in the best gear for sports retail possible for your loyal customers.
We've also patented the ability to print custom eye black designs and logos on the athletic strips, and we do for all MLB teams, NCAA schools, and the NFL Players Association. Eye black stickers in bulk fit in any store as a fun impulse buy near the register. People love supporting their favorite teams, and with an MSRP of under $5.00, it's an easy decision for them.
Take a look at our categories of gear for sports retail below, and welcome to the EyeBlack family.
For questions or ordering info, please contact Alex Bertrand at 301-816-1980 ext 212 or Bertrand@EyeBlack.com.
CURRENT HOT PRODUCTS


DISPLAY
OPTIONS
We have many different ways to showcase your EyeBlack.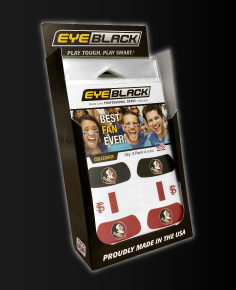 Shipper POP Display
- Great for the register/counter area
- Makes for an easy impulse buy
Clip Strips
- Can be placed at eye level
- Can be hung almost anywhere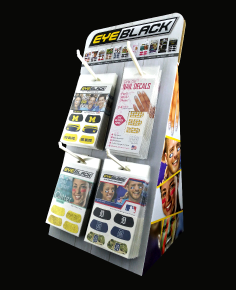 Spinner POP Display
- Entice customers with a wide selection of products
SELLING TIPS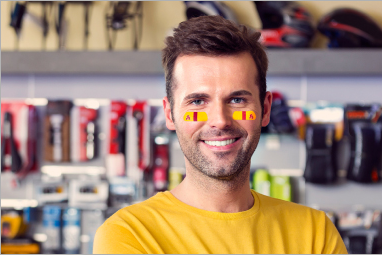 EyeBlack is an impulse buy to most consumers. It's fun and really adds to the fan experience! There are a number of ways to boost your sales!
Pass them out to your employees to wear around the store
Be sure to place them in the impulse buy zone (near register)
Incorporate event or season-specific EyeBlack
ATHLETIC PRODUCTS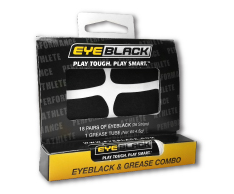 Athletic Combo Pack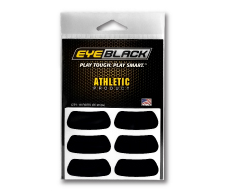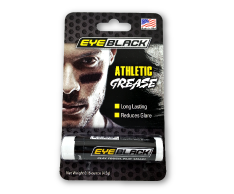 Black Grease
BattlePaint - 10 Available Colors
FAN PRODUCTS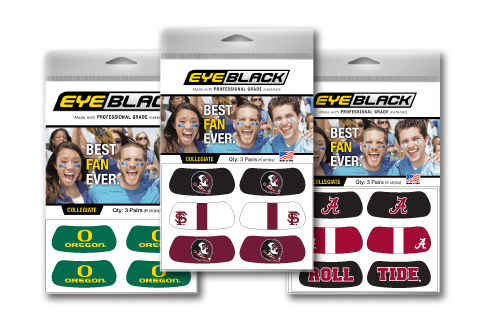 Collegiate
- Over 150 licensed NCAA teams' football eye black stickers
- Additional schools available upon request
- Options of 2-Pair or 3-Pair Packs
- Minimum order of 48 packs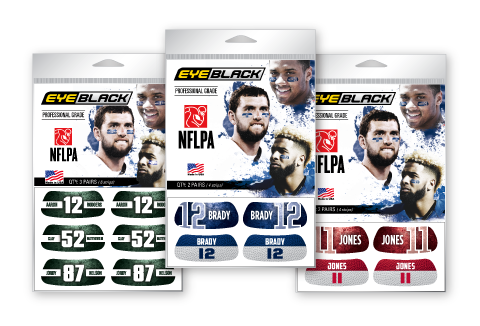 NFLPA
- Includes 1-3 players from each team
- Use our stock choices of players or customize with 3 of your own!
- A mini jersey for the face!
- Minimum order of 48 packs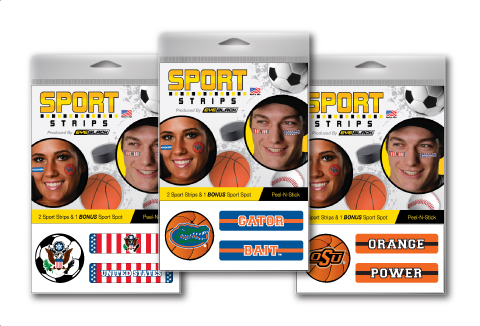 Sports Strips
- Soccer sports strips with large selection of countries.
- Most collegiate basketball teams available.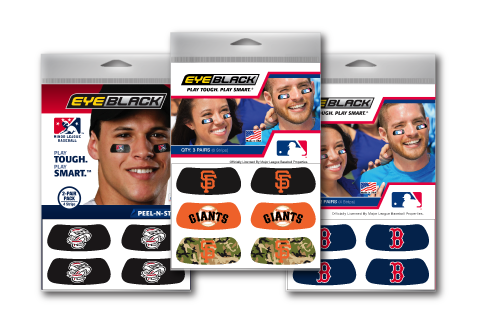 MLB / MiLB
- All 30 Major League teams and Minor League teams available
- Available in 2-Pair or 3-Pair pack
- Minimum order of 48 packs
For private label opportunities or custom EyeBlack for local teams, please contact us for more information