EYEBLACK RETAIL
Our products were originally designed as a quality product for athletes to use on the field. The concept of eye black using strips and grease is to minimize the glare of the sun. Our products are the ones you see professional athletes wearing during many games. We've spent years honing the perfect grease formula that doesn't run or melt in bags and our thin breathable strips, that have been customized by athletes for years, actually adhere better when you prespire.
What we quickly found out is that fans love to wear the same product the athletes are wearing on the field and the more you add colors and the customization to the strips and grease the better they are as a spirit and fan item. There is nothing more important to sports fans than showing their support.
Whether your customers are athletes or fans, we have a fit for you. Whether it is simple solid colors, licensed products, or customizing something for your local team or big events, we have something that can be a nice addition to your store.
We offer low minimums and the ability to mix and match products make these
A Fun and Profitable Impulse Buy!
For questions or ordering information, please contact Alex Bertrand Bertrand@Eyeblack.com.
Athletic / Fan Products
3-Pair Athletic
Eye Black Pack
Black Grease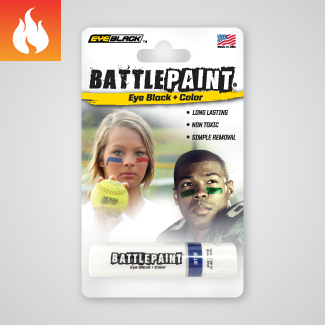 BattlePaintTM
4 Colors available
Solid Colors
16 Colors available
Player Numbers
Numbers 00-99 | Available in black or pink
Team Names
100+ Team Names available
Fan / Spirit / Licensed Products
Collegiate
17 licensed collegiate teams
Additional schools available upon request
Product options include: 2-pair athletic eyeblack set / 3-pair athletic eyeblack set / glitter eye black / glitter decals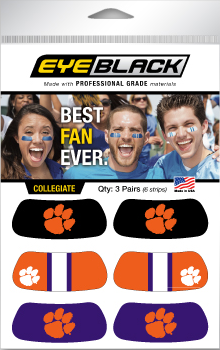 Other Glitter Products
Produced with skin-safe glitter material
Available in solid team colors and popular stock designs
Have an idea for a great seller in your store?
CUSTOMIZE your own!
FREE art & setup with FAST turn time.
Contact us to customize any of the fan/spirit items for local schools or organizations of your choice.
Selling Tips
Eye black is an impulse buy for most consumers. It is fun, and adds to the fun experience! There are a number of ways to boost your sales!
Wear products around the store
Place them in impulse buy areas
Incorporate event/seasonal products