PROMOTIONAL PRODUCTS
Custom eye black is a perfect way to share your brand! Promotional products are all about impressions, and eye black is the most visible promotional product.
Where traditional marketing promo ideas fall short is where the logos are placed. Lanyards, pens, towels, etc. are always in the pocket or around your neck. Eye black goes on the most visible part of you - the face!
EyeBlack's unique promo products have come a long way since our inception. Our company started with a clear focus: make the best eye black possible and make it for athletes. From there, we added the ability to print team logos on eye black. Quickly, it became clear that fans loved to wear what the athletes on the field were wearing and wear their team logo in the stands. Our business grew to create items the fans loved, too. After that, it became clear that custom eye black had many more applications than fan and athlete use. Now, eye black is popular not only as a custom swag giveaway, but also as alternative and different promotional products for social media campaigns, product activations, awareness campaigns, and more.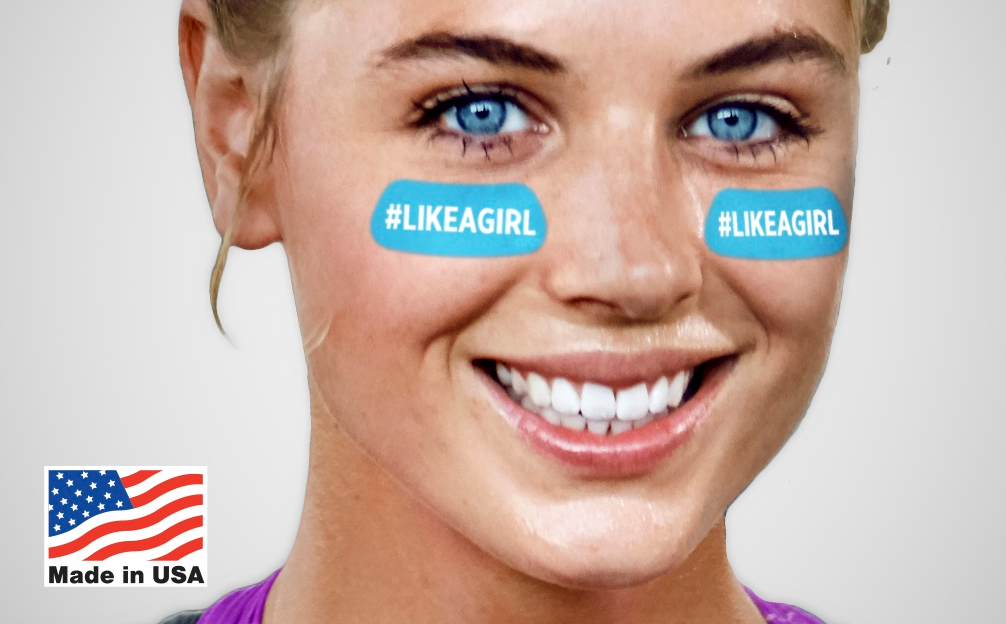 The digital print on eye black is one of the keys to our success. It allows us to not only print full color logos on eye black, but also to print different background colors. This is important because the ability to print different background colors helped us expand the products' reach from an athletic product to a branding statement.
We are now a proud supplier of custom swag to the ad specialty world and are members of ASI, PPAI, Distributor Central, and Promo Marketing. As a supplier of bulk promotional items, we continue to stay relevant with new and unique promo products. We can now provide traditional eye black grease with a custom wrap, eye black with packaging, and with additional branding space. We also have introduced a wide range of additional marketing promo ideas, including mustaches, finger nail decals, football decals, megaphone decals, pom pom decals and custom specialty projects. As you can imagine, we are surprised every day with the requests we receive!
While we have expanded our product share over the years we have stayed faithful to a few key parts of our business. We turn items quickly, offer personal customer support, and have clear and up-front pricing.
Our team would love to hear about your next marketing promo ideas and offer both FREE VIRTUAL SAMPLES and PHYSICAL SAMPLES OF PAST PROJECTS. There are no artwork or set-up fees! Please contact Promo@EyeBlack.com for more information or a virtual sample.
CLASSIC EYE BLACK
Eye black for a team, eye black for a school, or eye black for a tailgate. Our Classic Eye Black has been used for team giveaways, school field days, camp color wars, and as a new and fun giveaway.
EYE BLACK PREMIUMS
These unique promo products add a bit of marketing space and are fantastic to use as a sponsored giveaway, 5k event giveaway, gate giveaway, and at awareness events.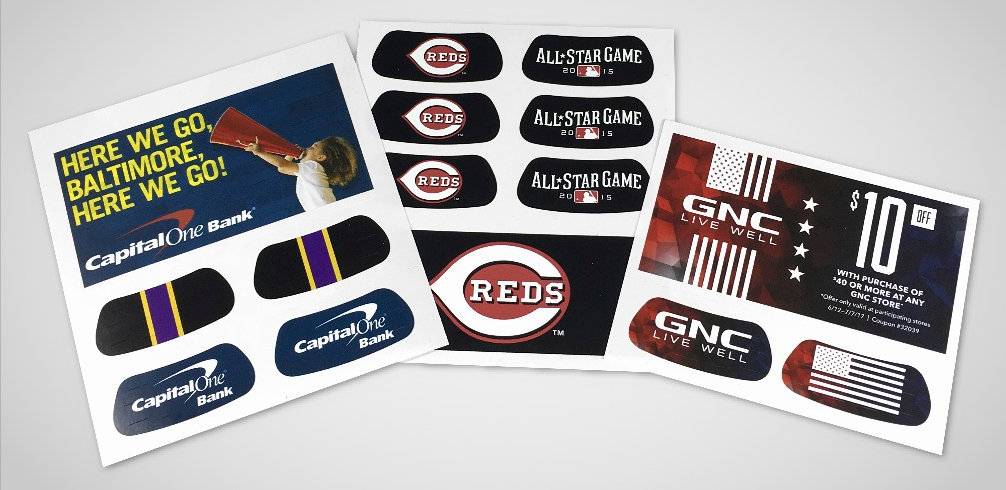 WRAPPED EYE BLACK PREMIUMS
These packaged units offer a retail and fundraising opportunity for schools. This custom swag is frequently used as a private label retail item or as a gift with purchase item.
MUSTACHES
Peel and stick mustaches are available on sheets as well as with a peel and stick header. They are fun marketing promo ideas for Movember and men's health giveaways. The "stache" has been a trend in recent years and continues to grow.
CUSTOM SPECIALTY PROJECT
Looking for custom marketing promo ideas or something out of the ordinary? We can create a special shape that fits your needs. In the past we have done bottle shaped decals, lemon shapes, specialty baseball themed giveaway shapes, and lacrosse specific shapes. Creative ways to promote using EyeBlack products