PROMOTIONAL PRODUCTS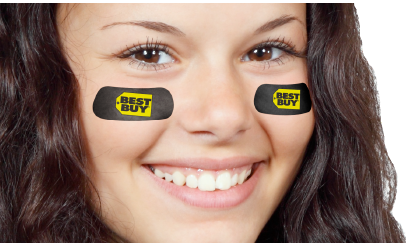 Custom EyeBlack is a perfect way to share your brand! Promotional products are all about impressions and there is no better way to impress than with EyeBlack.
Where traditional promotional items fall short is where the logos are placed. Lanyards, pens, towels, etc are always in the pocket or around your neck. EyeBlack goes on the most visible part of you, the face! Our unique promotional items have been called many different things, face stickers, black eyes, face decals, under eye stickers, the list goes on and on. Nomatter what you call them custom EyeBlack is a fantastic way to impress!
We are able to provide bulk promotional items in a few different ways, templates and descriptions you will find below.