Licensed Eyeblack
Custom Eyeblack
Now you are only limited by your imagination. Our team can build your custom eyeblacks, ready to ship, with your team logo, colors or slogan

Product Lines
Eyeblack for business
Eyeblack for teams
From the individual athlete, to the team or a large giveaway event, EyeBlack sells authentic EB that is used on the field to help reduce the glare of the sun. The material is safe and tested, we have a full line of products that will improve the performance on the field or to help support the team or cause you choose.

New Products
Organizations
Organizations
EyeBlack.com is very active among various organizations across the U.S. From Special Olympics to Susan G. Coleman Foundation, we pride ourselves on becoming involved and playing a part in the community. Autism Speaks is a foundation we have supported over the years. Although we have only just begun, we look to try and build a solid foundation for supporting others.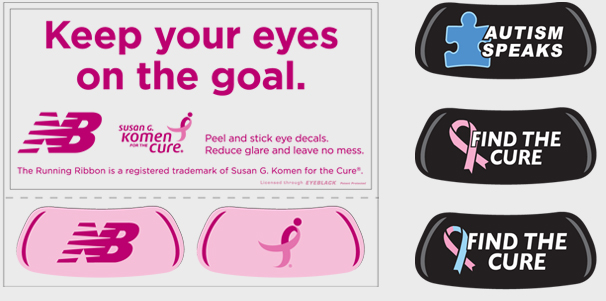 Find Your EyeBlack
If you cannot find what you are looking for please give us a call or send us an email to info@eyeblack.com.
We can be reached Toll Free at 877-393-2522 (US Only) or 301-816-1980 ext 205